Printed Electronics are Advantageous in Speed, Cost and All Shapes
Printed electronics form electronic devices such as electronic circuits and sensors on film at low temperatures, using printing technology and ink made of polymeric materials.
Sintering ink directly after the post-printing heat treatment greatly reduces the number of processes compared with conventional manufacturing methods.
Combining with a Roll-to-Roll processing system that prints while reeling enhances productivity and creates more advantages in development towards area maximization and weight reduction.
Future Ink is researching together with the Frontier Center for Organic Materials of Yamagata University and focuses on technological improvement by integrally developing materials for printing, processes and devices based on the research results.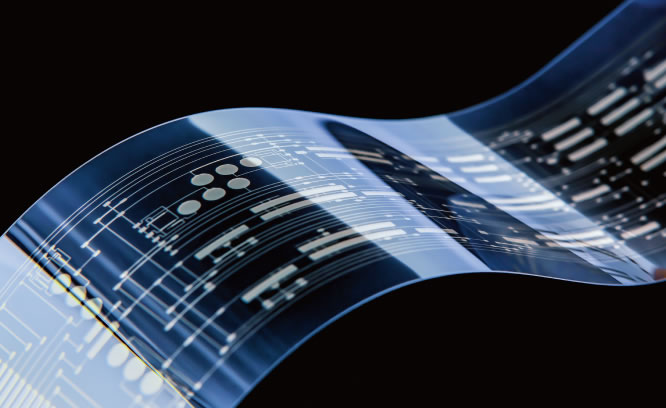 Total Support for Printed Wiring Circuit Sample Production
Future Ink is happy to produce circuit samples by printing and evaluating functions at any time.
We can suggest integral production from ink preparation to printing process optimization and printed wiring circuit sample production according to your needs. You can rely on our knowledge created through our research and development.
Feel free to contact us at any time.
Printed Wiring Circuit Sample Production
01

Listen to customer specifications for samples

02

Select printing processes

03

Select ink and prepare

04

Consider printing process optimization

05

Produce printed wiring circuit sample

06

Evaluate circuit sample